Michael Downey DPM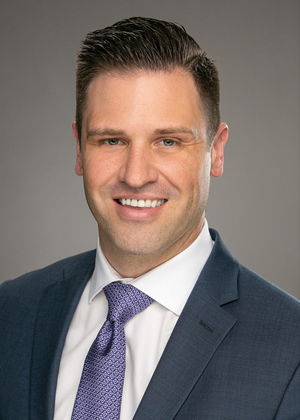 Dr. Michael Downey's passion is to provide personalized high quality care to patients in all stages of life. He is a devoted surgeon who believes in working together with his patients to improve their health for all lower extremity musculoskeletal needs. Dr. Downey trusts in a comprehensive dedicated approach to achieve the best outcomes. He is skilled in the latest surgical techniques to provide full function and pain relief. While he enjoys the challenge and reward of all surgical approaches, he firmly believes in an initial stepwise conservative method prior to surgical fixation.
Dr. Downey grew up on a cattle ranch in west Texas and eastern New Mexico. He received a scholarship to play collegiate basketball at New Mexico Military Institute (NMMI) where he went on to earn his associate's degree (AA) graduating valedictorian of his class. While attending NMMI he had the distinct privilege of serving and commanding the entire regiment, being the basketball team captain and earning the honor of male athlete of the year. He also received national recognition as a century scholar winner earning a scholarship to Baylor University. He received his bachelor's degree (BS) in Biochemistry with honors from Baylor University where he was active in the Baylor pre-medical honor society while also receiving his commission in the United States Air Force (USAF). In 2012, Dr Downey graduated at the top of his medical school class at Midwestern University (AzPOD) in Phoenix, Arizona. He earned national attention through the Kaiser Permanente hospital system as one of the top medical students in the country.
He completed his three-year surgical residency at John Peter Smith (JPS) Trauma Hospital in Fort Worth, Texas. During residency he served as the Chief Resident of the Foot/Ankle division in the Department of Orthopaedics and was involved in all aspects of foot/ankle surgery with special interests in traumatic injuries and complicated reconstructive procedures. While in residency, Dr. Downey received additional training in fracture management, soft tissue injuries and arthroscopic procedures through AO North America and the American College of Foot & Ankle Surgeons. He is also extensively trained in conservative and surgical management of limb salvage diabetic conditions affecting the lower limb. He has authored and co-authored several publications in the area of foot and ankle trauma and reconstruction. Dr Downey has an active desire in the continuation of medical and surgical research, as he is heavily involved in medical education consulting as well as product development for Lower Extremity implants/hardware. Dr. Downey has been listed on myankle.com and anklesprain.com which are patient portals to help patients locate surgeons skilled in the latest Total Ankle Replacement techniques and ankle injuries. He has been selected every year by his physician peers as one of the "Top Docs" in Fort Worth for Foot/Ankle Surgery.
Dr. Downey is one of the few fellowship trained foot and ankle surgeons in the Dallas/Fort Worth Area, as well as across the nation. He completed his extensive foot/ankle trauma and reconstruction fellowship training at the Aria 3B Orthopaedic Institute in Philadelphia Pennsylvania.
His specialized interests include high/low energy trauma, adult/pediatric fracture care, soft tissue management, deformity correction, minimally invasive surgical approaches, revisional surgery, arthroscopic surgery, ankle stabilization surgery, achilles tendon pathology, tendon transfers, rotational flaps, total ankle replacements (TAR), post traumatic reconstruction for arthritis, complex foot/ankle reconstructive procedures, diabetic limb salvage, neurogenic/congenital conditions, flat foot surgery, cavus (high arch) surgery, and second opinions.
Dr. Downey is triple board certified. He is a member of the American College of Foot & Ankle Surgeons and is active in lecturing and teaching the latest surgical techniques to other surgeons. He offers the highest quality surgical treatments in the Fort Worth and surrounding areas.